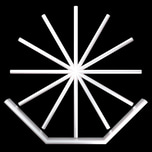 The Mark of Californian Culture
Last night, the Orange County Museum of Art unveiled its highly anticipated 11th California Biennial. The atmosphere was amazingly festive; there was a huge crowd screaming overpopulation in the lobby, a fit for the most populated state in the nation. Aside from the fashionably dressed attendees, the cocktail table chatter, the elaborate catering of French cheeses and expensive cinnamon sticks, the show itself was just as exciting. Much of contemporary art neglects the common museum visitor with ideas and pieces too abstract to comprehend, but Sarah Bancroft, curator of the 2010 California Biennial, spent the past year visiting more than 100 artists studios with a vision to curate a show that was diversely accessible for all.
Forty-five artists and artist groups participated in this year's California Biennial. Artist Brian Dick's OCMAscots of his Nationwide Museum Mascot Project, an ongoing series exploring museum intervention using pinata museum mascots, gracefully strolled around meeting and greeting visitors, encouraging enthusiasm and interaction between the public and art, which was a witty and playful twist on institutional critique. Berkeley-based artist Katy Grannan's photographs of Californians depict their struggle to define themselves under the poisonous California sun, cryptically blending two unique qualities of the Golden State: diversity and the glorious sunny weather. Sherin Guirguis, Egyptian-American artist, captures the East and West by incorporating Arabic furniture ornamentation and Western minimalism. Eve Fowler's overdeveloped prints erase the identities of her subjects, only giving hints as to who they are through descriptive titles, leaving us imagining who exactly inhabit the black voids.
The 2010 California Biennial definitely screams Californ-i-a. Diverse in every aspect from colors to ideas, the omnipotent mark of true Californian culture is here to stay.
2010 California Biennial Oct. 24, 2010 – March 13, 2011. For more information, please visit: http://www.ocma.net/