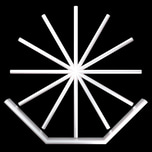 Thank you for coming (ahead of time)
A good event is never complete without good food. For GRAPHITE's upcoming Open – Table tomorrow Sunday, November 10.
Thank You For Coming (TYFC), an experimental food and space artist group, will be serving not just delicious cuisine, but one with a mindfully-aesthetic twist to the experience. TYFC's residency program creates and carries out exploratory ideas around the making and sharing of food. Their restaurant space in Los Angeles is used as an interactive platform for public engagement and creative experimentation.
TYFC is always experimenting with their ideas of food: varying ways of serving food, as well as the way you order it (their menus constantly change). Some of TYFC menus give us a glimpse into their Art-engaged dishes. For instance, Course Two, "Dadaism, Futurism, Surrealism," includes Magritte's Son of Man (fresh green apple) and Salad Composed According to Alexandre Dumas. The most recent menu is Course Three, "Pop," which lists Spamwich, Cambell's Tomato Soup, and the Warhol Whopper as the full meal.
TYFC will be serving food in our nacho-chili bar through a "surprise interactive ordering system" in alignment with this year's theme of networks.
Come out and get a taste of a creative sharing experience at GRAPHITE's Open – Table tomorrow, November 10 at the ReSTORE LA Space (1056 Westwood Boulevard).