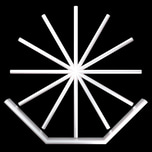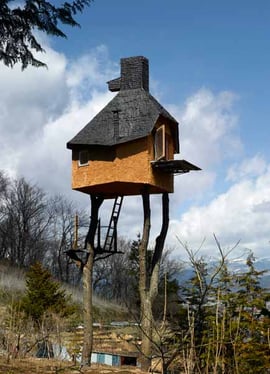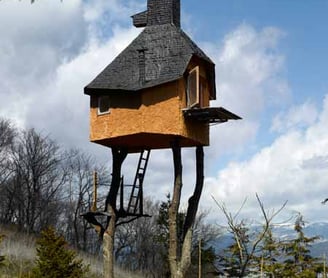 Buildings balanced on crooked legs, lumpy plaster walls crazed in a filigree of fine cracks, weeds and flowers sprouting awkwardly out of a house's shingled roof; is this the setting for a fairytale? For architect Terunobu Fujimori of Japan, this is a fairytale come true. His structures re-envision and reconstruct Japanese ideals of tradition and modernity.
Terunobu Fujimori, the leading historian of Japanese modern architecture, began designing his own structures in 1990. On the journey from historian to architect in the latter part of his life, Fujimori found "the act of conceiving and building…to be immensely rewarding, since the act of practicing architecture gives life to the knowledge I have gained as a historian". Architect Fujimori's designs emerge as if from a children's book with imaginative and playful hints at the fantastical seen in his "tree house" designs.
Fujimori says of his approach, "In my architectural vocabulary there are many ties to older farmhouses. It's like putting together an original language derived from the fragmented words of various rural nooks and niches". His architecture invokes tradition without being lavish. He mixes vernacular references with inspiration from the early days of Modernism. Fujimori has also drawn inspiration from nature and indigenous design. In many of Fujimori's structures there is a sense of nature's intrusion and colonization back into the buildings with clusters of real dandelions or leeks strategically planted on rooftops.
Fujimori strives to create "an architecture that advances toward the past…that has been rejected by modern architecture, including traditional techniques surviving in rural areas".
Fujimori's goal is to rethink the basic relationship between architecture and nature using natural materials and plants, reconnecting to the past when human beings first built their artificial structures into nature. Outlandish in its design, Fujimori's architecture is in demand with much of his specific structures published in the professional press or exhibited alongside other renowned Japanese architects like Toyo Ito and Arata Isozaki.
– Carmel Ni