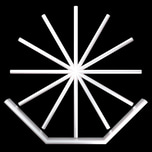 Yesterday evening, Hammer Student Association members had the opportunity to sit in on a rehearsal for the upcoming operatic production Billy Budd, which is slated for six performances at the Dorothy Chandler Pavillion's Music Center from February 22 to March 8. As a child I grew up under constant exposure to the soundtracks of musicals and operas, but never before had I seen a performance of this scale in person. My debut as an operatic spectator was certainly untraditional as it was a rehearsal, but my awe is nothing to be diminished. The lighting design - dramatic, the set design - unexpected and dynamic, the performers - cool with practiced conviction. It was most certainly a privilege to peek into the orchestral pit and watch the hands of the Maestro dance back and forth as he shouted cues like, "solemn now" and paused to give direction to the musicians. A new sense of nuance pulled forward as we were able to watch lighting designers experiment throughout the show.
The small handful of us in attendance were able to witness the making of a spectacle. Years and years of training, planning, designing, and practicing swirled together to form a performance of Billy Budd that (despite two interruptions from the Maestro) reminded us all of the reasons why Wagner referred to opera as a total work of art.
The Hammer Student Association wishes to thank the LA Opera and the OperaWise program for providing us tickets to this unique and exciting experience.