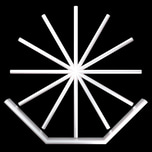 Spectators sitting in a circle, a dirt ground, saturated music, and two opponents (Fagnorolahy) facing each other. That is the atmosphere of the « Moraingy ».
Moraingy is a traditional martial art practiced on the west coast of Madagascar by the Sakalava people (one of the eighteen ethnics groups of the Malagasy people). In ancient times it was used as a game, as a means of defense, and as a training for war. During the Moraingy the adversary is seen not as an enemy but as a means to forming and proving oneself.
Christian Sanna was born in 1989 and is a native of Madagascar where he lived until 2009 when he moved to France.
In 2016, after three years of photographic studies at ETPA in Toulouse, Sanna won the Grand Picture Prize and started showing his projects.
Since then he has been living and working on photography between France and Madagascar. In 2016 he had is first group exhibition at Festival Manifesto in Toulouse and an artist residency in 2017. His project Moraingy was selected and exhibited during the 11th edition of « Rencontres de Bamako » (African Biennale of Photography).
www.christiansanna.com @christiansanna (instagram)