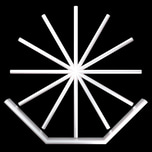 Marfa, Part 1: Other Things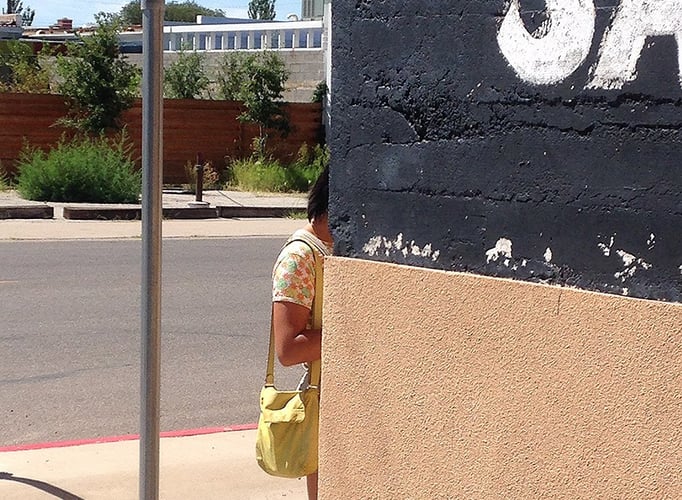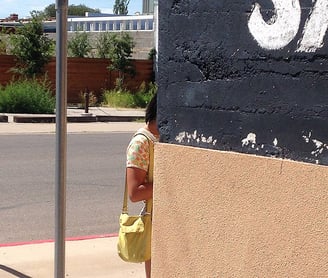 GRAPHITE editors Elena Yu and Gabe Garza recently took a road trip to Texas, passing through Marfa on the way to San Antonio. For both, visiting this small town that they'd always thought of as some sort of artist's utopia was a long-time goal and dream come true. Here, they share some of their phone camera snaps, as well as comment on the places they'd planned to visit and stumbled upon during their day and half-long stay.
Exhibitions 2D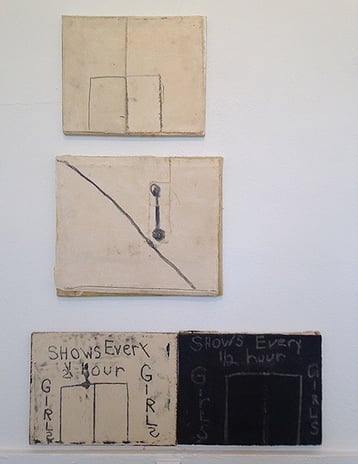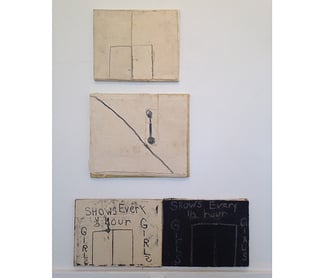 Gabe Garza: The friends we were staying with told us this is the best gallery in town. Exhibitions 2D had the nicest gallery attendant/owner ever! It's so rare in Los Angeles to walk into a gallery off the street and encounter its owner or director, so it was a treat we walked into 2D and owner Dennis Dickinson welcomed us with glasses of water, warmly explaining the layout of the multi-roomed gallery. After we looked around, we talked with him in the office for a while, and he pulled out books from his precariously balanced five-foot tall stacks to show us artists he thought we would like or who he was referencing in our conversation.
Elena Yu: He also gave us suggestions of where to see art in San Antonio. And when we left, he gave us a USB drive with high quality photos of all the work on display.
Food Shark Truck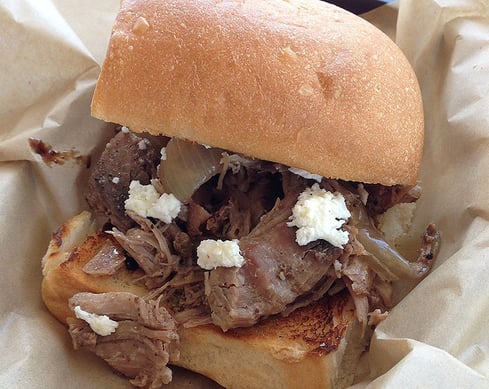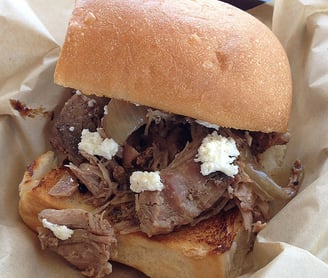 GG: Everyone we talked to before our trip who'd been to or lived in Marfa told us the number one place we had to go eat was Food Shark. The couple who started it separated, and now they each run one of the two most popular restaurants, Food Shark and Comida Futura.
EY: Yeah, when we got to town, I started to feel like the Food Shark folks have some sort of monopoly over the restaurant scene in Marfa. They even have a late night grilled cheese restaurant inside the Museum of Electronic Wonders. We went to the Food Shark truck on our lunch break from the Chinati tour, and both ordered the pulled pork sandwich with goat cheese and balsamic cherry reduction. Heavenly.
Marfa Museum Thrift Store
GG: I'd never gone through a thrift store CD aisle expecting to find something as rare as an original Cap'n Jazz CD, so I was set on finding the case and disc to the cover slip I found abandoned and placed in a random box of CD's that had been donated by Marfa Public Radio. I came up empty handed in my search, but was still incredibly enthused that the disc had possibly been in the thrift store at some point, and that another eager traveller might have stumbled upon it and bought it even though it didn't have a sleeve.
EY: When we first walked in, the only other person in the store was a tall skinny bearded guy sorting through donations and putting them on hangers at the back. Later, our friends told us he's the boyfriend of a local girl, and that he's a semi-successful fashion stylist! I didn't come out with any finds, so I spent most of the hour we were there sitting in a deep, soft couch chair labeled "NEVER BEEN USED." Another shopper snapped me out of my spaced-out state by loudly saying, "It's hard to believe that chair's never been used!" I later saw the same man going into the bathroom at the Hotel Paisano.
Wrong Store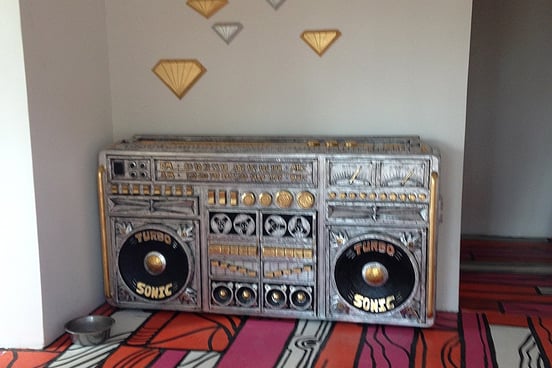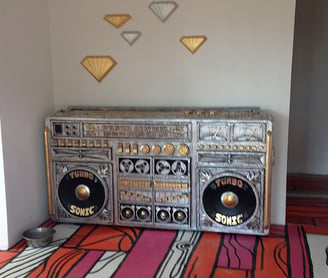 GG: The first thing we saw when we walked through the doors of Wrong Store was a three-foot tall, gold and silver, hand-carved wooden boom box dresser! It's probably the most expensive thing that you can buy in Marfa. The couple who owned the store both had huge-framed glasses on, and they told us they'd just stayed with friends in Silverlake, near where I grew up.
EY: There were a bunch of cool local artist-made objects and gifts, but there was also a dirty old fan on the ground that looked super dangerous! The shopkeeper told us a little kid had stuck his hand in it the other day, but he didn't get hurt.
Jett's Grill at The Hotel Paisano
EY: We ate dinner here with the friends we were staying with in town, and we basically saw everyone who we saw at all in Marfa eating there that night, including everyone who had just been on the Judd Foundation Block tour with us. Our friends told us that when they first moved to Marfa from LA fifteen years ago, they would say hi and make conversation every time they recognized anyone, but they soon realized that this would be extremely exhausting, because it wasn't long before they knew almost everyone! I like thinking about people seeing friends and neighbors everywhere they went and ignoring them, and the fact that this behavior isn't considered rude. This really made me think about the difference between a big city like Los Angeles and a small 1,900 person town like Marfa.
GG: We didn't recognize two people having a dinner meeting at a table nearby, but I occasionally glanced over at one of the women, who turned out to be someone my dad had met in Los Angeles who works at Marfa Public Radio. Earlier that day I had been playing text and phone-tag with her in an attempt to meet up, and it was very Marfa when our friends (who of course knew her) pointed her out as she was leaving, and I finally met her in person.
"Marfa, Part 2" preview: Judd concrete works Hot vs. Not list!