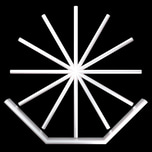 MAKING A SCULPTURE OUT OF A DINNER PARTY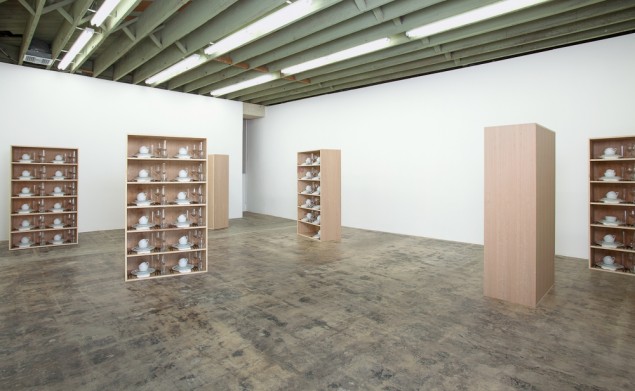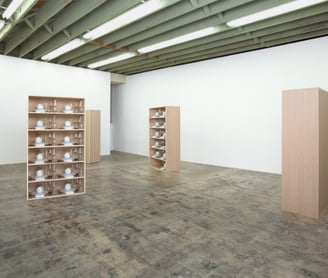 On March 12, 2012, New York based artist Jason Kraus prepared a four course, sous vide style meal for twelve friends and fellow artists in a temporarily constructed kitchen at Redling Fine Art. He preformed an identical act the next night, the meal, location, and company unaltered. And then again, the next night.
For seven consecutive nights, the same twelve people met in the same gallery to ingest the same meal. At the end of each night Kraus would clean up after his guests, washing their dishes and disassembling the tables that they dined upon, creating a container to hold their cutlery and table settings. At the end of the seventh night, on March 18, seven cabinets were all that remained of the dinners, and Dinner Repeated was complete.
Jason Kraus, Dinner Repeated, 2012
According to the artist, the work is somewhat autonomous from the event at hand, for he was more interested in the objects that the dinners produced than the meals themselves. Above all, he just wanted to make a sculpture out of a dinner party.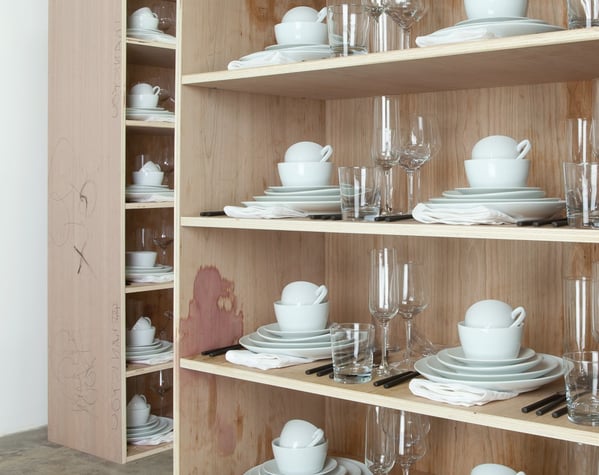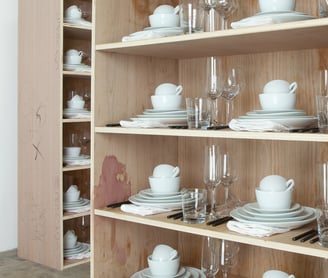 These seven resulting sculptures are comprised, generally, of six rows of two place settings each. The plates and glasses are as generic as they come; their white porcelain and thin glass so predictable that they could easily be mistaken as a product of Ikea. However, the apparent monotony of these constructions is fractured (quite literally) by occasional broken stemware, lipstick stained napkins, and plates mysteriously absent from the shelves. These unique characteristics of the sculptures, fabricated by the diners' participation alone, are the only factors keeping them from resembling a restaurant showroom display. Each sculpture begs for close inspection, and the subtle details spark a curiosity and perhaps even an envy for inclusion in these meals. (I'm still wondering why diner #11 missed his/her meal on one of the nights.)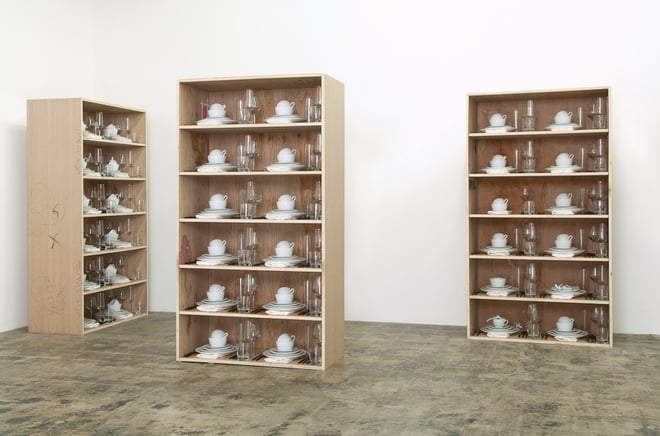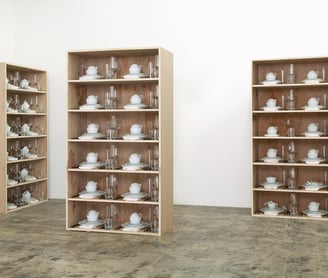 Dinner Repeated is difficult to view with an objective eye. Kraus's constructions and the events that produced them belong under the guise of relational aesthetics, specifically the work of fellow New York artist Rickrit Tiravanija. His Untitled 1992 (Free)sculpture/performance at the 303 Gallery in SoHo, where he cooked Thai food in a makeshift kitchen for the gallery visitors free of charge, is an undeniable reference in Kraus's work. However, rather than opening up the experience to the public as relational art tends to do, Dinner Repeated ultimately exists in the private space of its making.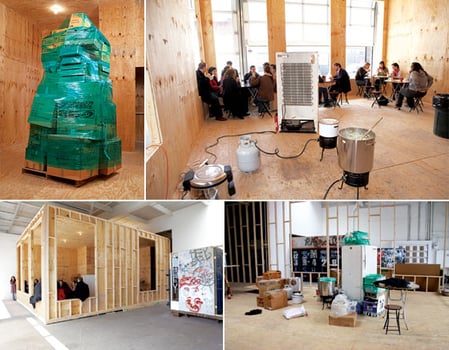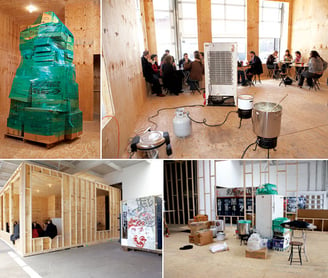 While Kraus encourages us to insert our own narrative into what could be considered as any given dinner party, the experience seems too far removed through the aesthetic detailing and clean cutlery. Human presence is implied, though it is clear that this presence not our own and could never really be. Something is held from us in the private space that, try as we might to inhabit, seems solely contained in the glass and porcelain fragments from those seven unattainable nights.
Jason Kraus's Dinner Repeated was shown at Redling Fine Art from March 13 to May 12.