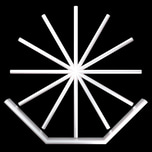 It has been twenty years since Pedro Almodovar has created a role for Antonio Banderas, who was once considered to be what Penelope Cruz is to the Oscar-winning Spanish director in most recent years. Banderas' absence however, is no longer a thing of the past now that Almodovar has announced their collaboration on his latest film, La Piel Que Habito (The Skin I Live In), expected to be released in the summer of 2011.
What is even more striking about Almodovar's announcement is the blend of genres he will be dabbling with this time, including one that he has never approached before: horror. Or more so, "a terror film," which Almodovar told to Spanish newspaper El Pais, that is "without screams or scares," but among the harshest he has ever written. Banderas' character is "brutal," and that is not surprising as the movie is an adaptation of Thierry Jonquet's novel, Tarantula, which is largely based on Richard Lafargue (Banderas' character), who is an eminent plastic surgeon haunted by dark secrets and dictated by the revenge he seeks on the rapist of his daughter.
The director had to rewrite the screenplay nine times, "and if I can finally shoot it, it's because I have been able to solve the huge problems I had with the adaptation. I am stubborn and I could not abandon this story." If one is familiar with Almodovar's multifaceted work, one will instantly know that this will not be the classic horror/revenge movie, as he continued to tell El Pais, "I won't respect any of its rules." But thanks for the reassurance, anyway.