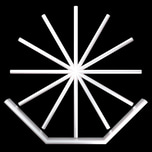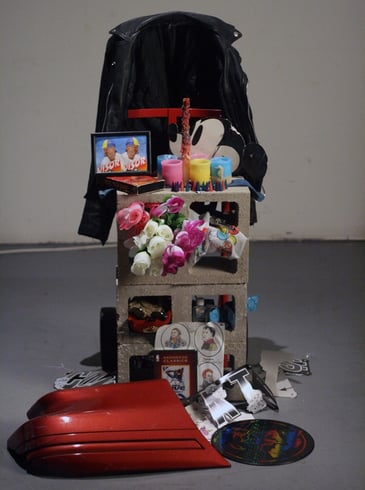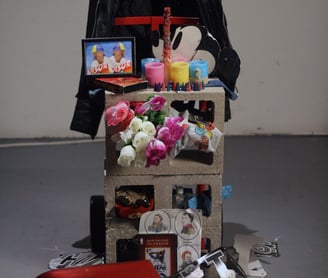 "There is a gif of clouds and one of a princess on your page; how long t1lllCh@ngz****?" –Phil Davis
Phil Davis directly sources found objects and materials evocative of pop, youth, and consumer cultures. From wigs to magazines, he makes multimedia installations whose parts initially seem to bear no relationship to each other. In Contacting Culture Pnuema (2010), he creates connections between everyday objects—fake roses, candles, a Mickey Mouse print, a leather jacket—that when weaved together, form a puzzling, vibrantly colored shrine seemingly dedicated to a nineties teenager. A video is included, featuring the artist's alter ego, Gothic Gary, and is projected onto an accompanying installation equipped with magazine cut-outs of women, spray paint, an electrical cord, boots. The familiarity attached to these objects makes us think of the past, for instance, the already forgotten decade of the nineties, while confronting our present-day obsession with consumption, image, and celebrity culture. These materials are ephemeral, unimportant, and what Davis himself calls, "garbage." We all know it, speak it, and see it. Our sense of familiarity comes from Davis' "garbage," whose pedestrian language is used to ask complex questions—we are stuck in the spectacle, will we ever get out?
Contacting Culture Pneuma. 2010.