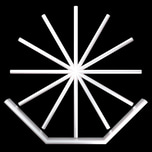 In Response to I'm Your Fan
Moyra Davey's I'm Your Fan is a small book of only six chapters and 41 pages, a short memoir formed by the role of the artist as appreciator, as a fan. Davey considers other artists and writers -- Mark Morrisroe, Douglas Crimp, Francesca Woodman, Mary Wollstonecraft, Jean Genet, Chris Marker, and more -- tracing the intersections of their work and Davey's own life, marking places where they have influenced her photography, especially the shifts between photographing the human figure and refraining from it. One chapter is devoted to the color maroon (a light shade of which appears on the book's cover), and significant memories it evokes: self-sewn clothing articles from adolescent years, or the good and bad aspects of notebooks (maroon ledgers in particular). I'm partial, however, to two chapters written in a more fragmentary, note-taking style, that include reflections on writings, direct quotations, observations on the subway and of the sky's color through her window, all framed by a segment of time. These chapters dip into a more romantic, melancholic feeling than the rest of the memoir, but I am a sucker for all things melancholic. Davey shifts easily between thoughtful analysis of other work and her own experiences, often also acknowledging the act of essay-writing in which she is engaged with consistent self-awareness.
In the book, Davey notes that she was invited once by a gallerist to make a work in response to the writing of Swiss novelist Robert Walser. In a similar fashion, I asked three friends to make works in response to some fragments of I'm Your Fan.
Awake at six. Look out at sky as I turn the light on and off: blue sky/grey sky. Mauve-grey sky. Snow, fog, rain.
By Lucia Zezza
The bleaching, white light of vanity. Genet: I'm fifty and I don't mind that I look sixty.
By Lucia Zezza
A woman in a fuschia hoodie writes with a small pencil stub and rubs out as much as she writes.
Barney: she is doing college schedules. Around her neck, a silver chain and name pendant in script, might read 'Maria.'
By Zach Helper
Walking down Oxford Street with C. into raking, late afternoon sunlight.
I say 'Gary Winogrand light.' C. walks and talks fast, sometimes leaving me behind.
By Zach Helper
Train to Rhinecliff, watching the foam on the Hudson, the sun setting.
By Coco Baldonado