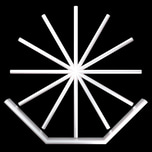 Heaven At Once
Graphite celebrates it's launch and release
Graphite is proud to announce the release of it's most recent journal, Graphite IX Categories.
Graphite is building unity through our community gatherings. During our launch party Friday, June 8th, we hosted an astonishing range of performers who read, performed and shared their brilliance with us.
The artists in this year's issue of Graphite are noteworthy and we urge you to continue to show them some love! We will continue to embody the essence of these artists as we share more on our platform going forward.
2018 marked an incredible milestone for Graphite. Graphite's energy is back and glowing. The Graphite team will continue working, schooling, planning and executing into the summer. This year we were presented with so much that we must decode, process, let go of, reflect on and integrate growth from, and we are happy to share this journey with our readers going forward.
We would like to thank Hammer coordinators Zoe Silverman and Theresa Sotto for their leadership and generous help. They have empowered us to practice diligence and helped us bring Graphite IX to its current manifestation. We would also like to thank wizards Emi Eck and Connie Chang for grounding and beautifying this years Graphite. <3 <3 <3
We would love to hear feedback from our readers! email at graphitejournal@gmail.com.