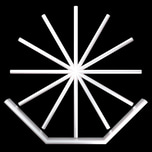 Have Faith in the Future of Feminist Art
Last Thursday, the Department of Art History hosted the first lecture of a series, "Bread and Roses: Making Feminist Art and Politics," with Faith Wilding as the keynote speaker. The first time I heard about her was when I took an introductory performance art course my first year of college, and fell completely in love with her "Waiting" piece. I remember it being an incredible impact on me, and my later investigation of the female experience.
I think "Waiting" was her most famous performance at Womenspace (or arguably of her entire life), formerly an old laundry house, founded by Gretchen Glicksman circa 1972. Anyway, "Waiting" is a 15-minute long poem that paints a picture of a woman, dressed conservatively and traditionally, hair pulled back in a bun an all, sitting on a chair, rocking back and forth, reciting her poem: "Waiting for my breasts to develop . . . Waiting to wear a bra. . . Waiting to menstruate. . .Waiting to read forbidden books. . ." Even though I wasn't alive to see it in 1972, the documentation of "Waiting" was still very intense and striking, and to finally see Wilding in person introducing her recent work, was very rewarding. Her newest piece, done in residency at the CCA commissioned for Glasgow International, is a collaboration with Kate Davis entitled "The Long Loch: How Do We Go on from Here?" which explored the past, present and future of feminist theories through their separate practices. Wilding derives much of her work from feminist thinkers such as Virginia Woolf, who believed that no one would know what a woman was until that person experienced all arts and practiced all human skill. The collaboration was an ongoing dialogue with Davis about varied topics of feminism and their experiences through handwritten letters, postcards, all sorts of communicative forms and objects. But Wilding's own part in the collaboration centered on the tear drop, in which she began to think of the shape of the tear, thus transforming it in various different ways with watercolor, which she does very well, adding collage elements and picture cutouts. The use of water, a natural resource that flows and provides life, both as concept and material highlights the ongoing dialogue not just between Davis and herself, but the one between woman and society. Moreover, this exploration of how the past weaves itself into the present, which will weave itself into the future, exemplifies the dialogue between feminism and the changing society, an ongoing process that shall never cease fighting.