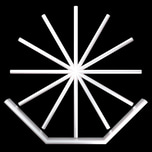 Farrell Brickhouse Dreams Before Heading to the Studio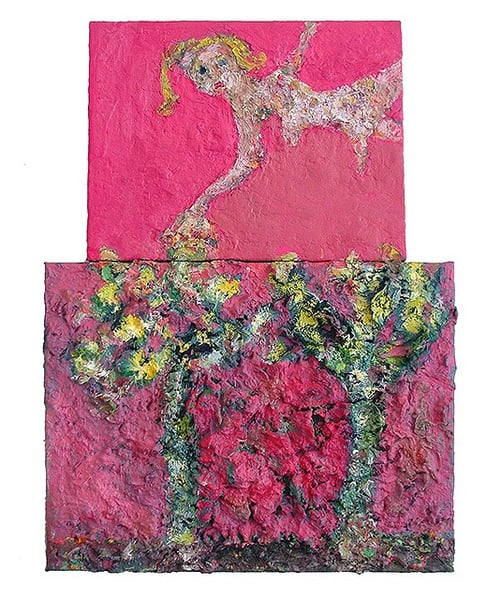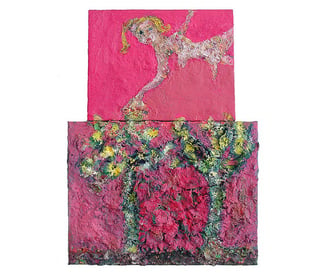 New York-based artist Farrell Brickhouse creates dreamlike spaces, interiors, and landscapes populated by almost-abstract figures and objects. He paints with luminous thick oil and often with glitter. His subjects are mysterious, like plates on the wall at his aunt's house, a stumpy rainbow, or pink legs. These frozen moments of time, "small, jewel-like emotion-objects," as the artist Sharon L Butler called them, present his painterly vision. Brickhouse currently teaches at the School of Visual Arts .
Some of his new work is showing at Life On Mars Gallery in NY and Peters Projects in Santa Fe. He is represented by the John Davis Gallery in Hudson, NY. Over email, he opens up on his current state of mind, musings, and what it takes to get out of bed.
How do you start your day?
Most mornings when I know I will have a chance at being in the studio later that day I will lay there before fully waking and "dream' of what I will do. There is a process to working, of starting somewhere and then building on that, like a counter-puncher, put up something and then move it from there, trusting that I know what I want or don't as I see it before me.
Good painters have talked about loosing control to gain control, understanding one's intentions, not being afraid to make mistakes, looking for what one doesn't know, all those things that apply to any creative process.
Things become animated—real— all those elusive words but one knows when a mark is right, when an image has something to offer and one's soul is satisfied that what is being done is worthy.
Sometimes it comes easily and other times it is quite scary. There is a Native American prayer: "allow me to make things happen". I want to surprise myself, step back and be a viewer, as if seeing it for the first time as the work unfolds offering itself in ways beyond what I had intended. And hopefully that experience continues over the course of repeated viewings, where the novelty of the thing has worn off and what one believed was there is surprisingly evident.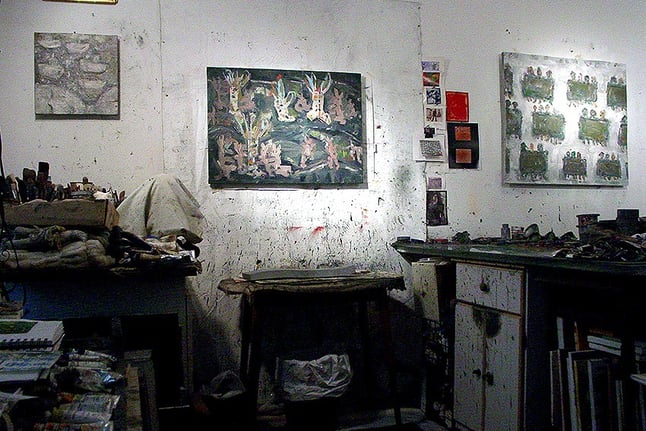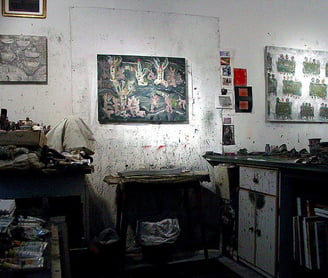 Where do you have to be to make things happen?
I need to live and work in the same place. I do "enhanced putting" before I finally get to work. Then I like to pop out of the studio on a break and take care of a chore or two or just sit in my backyard for a moment or cuddle with my wife if she's around, then get back "in there". Ultimately solitude is required, clearing the decks so that all I have to do is paint.
What kind of materials do you need to get it done?
I'm an oil painter. Oil paint can go on just about anything, canvas, wood, old carpets, lead and lead foil. It does everything I need it to do to get the best work out of myself. I love its sensuality and mutability. Oil paint can go on just about anything. Even a minutes drawing can be essential and I love gouache for its immediacy and for when I travel. I mostly think in terms of lights not colors and lately have been working with aluminum pigments and paints and a bit of glitter.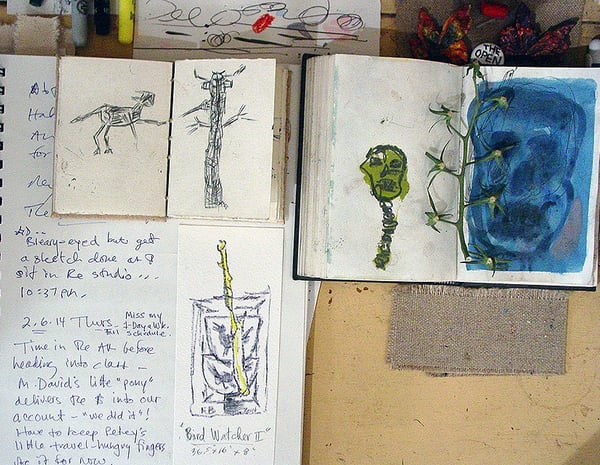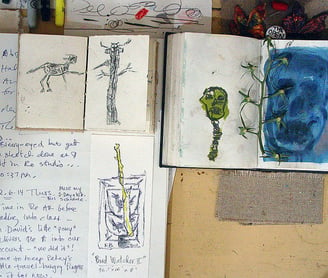 Do you find teaching detrimental or essential to your practice?
Teaching is a privilege. I've been at SVA's Undergraduate Fine Arts program since 1980. Some days I come home and tell myself — now you must do what you have encouraged your students to do. I'll see the work of a student who has no idea how good her work is and I am humbled and think that it is only my length of experience that separates us. I've had artist friends who didn't need the financial income but still taught, as the chance to share and test experience and knowledge. To be in that dialogue with young artists was so vital. Some mornings it is hard getting out of the house, especially after a night of work that I would love to sit with for a few hours in that early light, but once I enter the classroom it is impossible not to become immersed in the dialogue of the classroom.
The pendulum of history has swung a bit to the narrative and painterly. My classes fill up with young students seeking to speak through paint in "non-factual" ways.