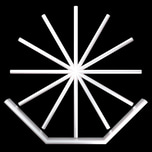 Excerpts from a Compilation on Aging
The following segments are passages from a compilation called Aging, amassed by Emily Toder, composed of sentences from The New Yorker, and published by Gauss PDF in 2016. The concept initially emerged from a somewhat petty grammatical curiosity observed of the magazine's in-house style rules, and grew gradually into an informal index of what it is to age; to age in this time and place; and to be described in the midst of that, in a uniform prose style. In short, the magazine's convention of inserting a subject's age as a nonessential appositive (that is, between a pair of commas) unintentionally and awkwardly hints at the arbitrary, dynamic, relative, and overall nonsensical nature of describing achievement, aspiration, or overall personhood, on the basis of this marker. By reading the sentences in succession, and in a numerical (verging on) chronological order, we watch and maybe laugh or cry as people "age" and effectively but unwittingly challenge "age" itself.
His two other sons, she said, are Patrick, known as Mouse, who is a twenty-one-year-old sophomore at Harvard, and is planning to get married in June, and Gregory, known as Gigi, who is eighteen and a freshman at St. John's, at Annapolis.
(Their romance took a turn for the star-crossed in September when they were arrested in Saugerties, New York; according to a police blotter, Smith was charged for driving a stolen truck without a license or insurance while carrying heroin, and Ferreira, who is twenty-one, was charged for carrying ecstasy and resisting arrest. There was also a warrant out for Smith's arrest in a neighboring county.)
"There is no future in Moldova," Olga, who is twenty-one and studies cosmetology, said.
Hutchinson, an Army specialist who is twenty-one and has a ten-month-old boy named Kamani, was arrested when she didn't show up for her unit's flight out.
Kohistany, who is twenty-one, fled with her family to Virginia, in 1997, to escape the Taliban.
The real example of courage in this story, however, comes from Portman's son Will, who is twenty-one years old.
Almost all of them are older than the defendant, who is twenty- one; he was nineteen when he was charged with carrying out the Boston Marathon bombings, which killed three people, and having taken part in the murder of an M.I.T. police officer.
I had been warned that Mary Katherine, who is twenty-one, didn't much like reporters, and I couldn't blame her.
His son, Maged, who is twenty-one, and frequently accompanies his father to the front lines, sat in the living room with us— alternately soaking up the political arguments and projecting an air of casual indifference.
Novak (Nole to his family), the eldest of three sons—Marko, who is twenty-two, and Djordje, who is eighteen, also play professional tennis—enjoyed what he described as a "beautiful" childhood.
Moyer and his wife have eight children, the oldest of whom is a sophomore infielder at UC-Irvine, and is less than two years younger than Moyer's youngest teammate, Tyler Chatwood, who is twenty-two, and, yes, was also unborn when Moyer débuted for the Cubs.
Gallagher, who is twenty-two, is a bit more seasoned (and maybe therefore more waggish) than Groff.
Five soldiers, including Jeremy Morlock, the smiling man in the picture, who is twenty-two years old, are awaiting courts-martial for the murder of three Afghan civilians; seven other soldiers had lesser, related charges led against them, including drug use.
Susan Kahane, who is twenty-two, graduated from Columbia last spring.
She and her older brother, Sean, who is twenty-two and studying math and computer science, refer to their parents as Rob and Joyce.
"I have a daughter who is twenty-two years old. My husband needs me and my daughter needs me."
"I might get my son Austin, who is twenty-two and studying writing at Vermont College, to help me write the screenplay," he said.
After a night in prison, Zenghi Bar Khan exchanged his son, Rizwanullah, who is twenty-two, for himself.
Auster, who is twenty-two, is already at work on her second album and is slated to appear in two films next year.
Smith, who is twenty-two, is an inoffensive singer who has mastered the moves of his elders without adding any idiosyncrasies.
The week before Bouazizi's death, Hamada Ben Amor, who is twenty-two and goes by the name El Général, used a handheld camera to tape himself singing the song, a baseball cap pulled over his eyes.
Erin Bixler, who is twenty-two and recently graduated from the University of Michigan, and Katye Rhett, who is twenty-one and is entering her senior year at the University of the South, in Sewanee, Tennessee, are the form that J.Crew's response to this deficiency has taken.
DeBaise, who is twenty-two, wore a crew-neck T-shirt and a baseball cap advertising a brand of vodka.
Two of its founders are Nate Levine, who is twenty-two, and Zac Bookman, who is thirty-three.
Five prospective buyers have been heard from: a retired real-estate salesman, a lumber magnate, a broker, a movie actor, and Esmond Bradley Martin of 1 Sutton Place, who is twenty-two.
"Today, we're dealing with a lot of idioms," Ben Polk, who is twenty-three, told his students. "Can you tell me about your first date?"
On Wednesday night, at the Country Music Association Awards, in Nashville, Taylor Swift, who is twenty-three, was honored with a de facto lifetime-achievement award, and George Strait, who is sixty-one, was named Entertainer of the Year.
Inside, Gaga, who is twenty-three and speaks with a prim grandeur that might have come from watching old movies, sank into a nubby upholstered seat.
The Sinfonia Iuventus concert, which took place on the premises of Polish Radio, with Marzena Diakun conducting, offered a glimpse of the youngest Polish generation, in the form of Ignacy Zalewski, who is twenty-three.
Murphy, who is twenty-three, was promoted to principal dancer this year, as was Marcelo Gomes, a big Brazilian who started out a little soft and goofy, and has reined in, and gathered power, without losing his sweet openness.
Scarlett Johansson, who is still only twenty-three, has appeared in an amazing number of movies.
Owens, who is twenty-three, grew up in Daytona Beach, racing BMX bikes against the neighborhood boys, until she started taking them on in stock cars that she helped build.
After a sensational rookie season in the National Basketball Association, Yao, who is twenty-three, had returned to China in early May with one clear objective: to lead the national team to the title in the Asian Basketball Championship, which serves as the regional qualifier for the 2004 Olympics.
Rogers, who is twenty-three, was relieved of his fastball-throwing duties with the St. Louis Cardinals organization at the end of spring training, and he has now been assigned to Boston's Sarasota affiliate, where, throwing mostly knuckleballs, he allowed just one earned run in his first seven innings of work.
Beckett, who is twenty-three and six-five, has the contemptuous air of the overgifted athlete, but, having earned the sneer now— he'd added nine more strikeouts, and by the time he was done had surrendered but three runs in his last twenty-nine innings, along with two shutouts—he appeared to forgive us a little at the end.
"I felt that I had developed an unhealthy addiction to lurking and creeping," Cederberg, who is twenty-three, told me.
"It's like being an athlete," Snute, the Norwegian, who is twenty-three with shaggy blond hair, said at a pre-tournament photo shoot.
Zuckerberg, who is twenty-three, sipped lemonade and chose his words about Google carefully, saying, "On the highest level, we're both trying to supply people with information that interests them."
Danishgar, who is twenty-three, a graduate student at CUNY in political science, and one of the founders of a small feminist group called Women for Afghan Women, pointed out that after the liberation of Mazar-e-Sharif unveiled women were celebrating in the streets with men.
But the Mayor's well-known commitment to philanthropy is one to which Georgina, who is twenty-three, is gravitating.
Harris, who is twenty-three, was a breacher in Iraq; he opened doors in the towns that his unit passed through, sometimes with a sledgehammer, sometimes with a shotgun blast, sometimes with C-4 explosives.
Bashir's wife and his daughter, who is twenty-three, were in Amman, and he had told them to stay there until the war was over.