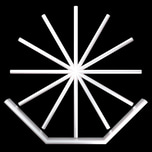 Elysian Park Museum of Art
"The Elysian Park Museum of Art (EPMoA) is an ongoing experiment in the amateur use of public space" hosting conceptual exhibitions in a non-traditional setting. Elysian Park, located near downtown Los Angeles, is Los Angeles' oldest public park. Rich with history, it dates back to its founding in 1886 and even further as Native American lands, and as a lasting remnant of Spanish California Governor de Neve's 1871 Royal Grant for public lands. This space has served the community and laid witness to the city's expansion, and even worked as a site for the modern pentathlon during the 1932 Summer Olympics. Even with its historical context and relevancy, Elysian Park has remained overlooked by the general public.
Founded in October 2009, the Elysian Park Museum of Art is made up of an evolving group of artists and curators, with a mission to utilize the open space as tableaux for "temporary, low impact, site specific, installations and performances" drawn from the ecological and cultural atmosphere of the surrounding community and of the greater Los Angeles area.
The EPMoA is playing with the functionality of the museum as an institution by uprooting the context of the gallery wall, displacing art into a public arena, and juxtaposing it into a natural setting. This expansion breaks down the ideology of the institution with exhibitions apt to vandalism, destruction, and displacement because of its locality. With the museum's focus "on creating pathways between different areas of the park, and the different communities that use them every day," exhibitions inhabit all facets of the space ranging from parking lots, to off the path alcoves, to conventional sections of the lawn. The EPMoA is delving into a new frontier where the boundaries between a museum, a park, and a public space are intertwined into a cohesive forum for creative discourse, and is actively accepting proposals for site-specific projects from interested artists and intuitions alike.
From October 13th to December 19th 2010, the Los Angeles Contemporary Exhibitions (LACE) is currently running an exhibition called Elysian Park Museum of Art, transforming its gallery space into a pseudo visitor's center for the EPMoA to profile the museum's past art installations and performances.
For more information, visit http://www.epmoa.org