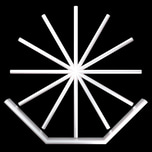 From the director of glorified indie films, Thank You For Smoking and Juno Hollywood can pat itself on the back for supporting a film to the tune of 24 million, about the current unemployment crisis, through one mans somewhat inner journey traveling the country as a corporate downsizing, aka firing expert.
I previewed the film at the DGA in Los Angeles which was followed by a Q&A with creator, Jason Reitman. George Clooney plays Ryan Bingham, a sharp, proud, smooth talking bachelor, gliding through airports, living out of a glossy, well-oiled black suitcase. His life is presented as a series of transactions with premiere plastic, coming and going from sterilized hotel rooms, "on the road" minus some forty days out of the year, practically invisible to his family. Office after office, he is the man that fires unsuspecting employees for companies too cowardly to do the job themselves– and make no mistake, Ryan Bingham is very good at it. Ending each termination session with saying that who ever built an empire had to first reach rock bottom, Bingham is also a motivational speaker with a motto inspiring people to let go of their baggage, through the contrived metaphor of a backpack. I have to confess, Clooney is equally as convincing as the character he plays–his sparkling eyes and cool, collected demeanor bringing a sense of empathy to the otherwise apathetic Bingham
As the narrative progresses, a few things happen–Bingham meets Alex, played by Vera Farmiga, a successful, frequently flying woman he likes, crudely described in her own words as like him, but with a vagina. He also faces losing his precious solitary lifestyle because his company is going digital, investing in web-based video technology to cut costs and fire people electronically through a monitor–and the woman responsible for this is Natalie, depicted by Anna Kendrick, an ambitious, Cornell graduate with her pick of places to work, overly-confident, but naive and inexperienced in what is required in the fragile art of firing. Bingham's boss assigns him the task of taking Alex on the road to show her the ropes, which he begrudgingly does. A series of events veer the film from initially being a dark comedy to a more serious drama–where Bingham's life begins to unravel and make less sense as he discovers his own desire to love and be loved.
While it's intentions are good, my qualms with this film are many. Yes, it's conventionally well-shot and has a certain "fresh" quality by Hollywood standards, but the writing feels self-conscious and apart from Bingham, surrounding characters are reduced to movie clichés. After the screening, Jason Reitman commented that in addition to Bingham's character, he was interested in exploring the contemporary phenomenon of single women mid-life, who were promised that success would bring them happiness. Had he genuinely followed through with this, Up in the Air, would have been a more interesting film on many levels, but Reitman's treatment of Alex falls very short of any kind of resonant execution. She struts around in heels with an overt masculinity, rarely revealing any semblance of a soul and proving in the end that she hardly has one. And while the younger Natalie may be ambitious, the director is relentless in undermining her as the comic relief, bumbling around like a fool, marriage-obsessed, crying like a baby on Bingham's shoulder, apologizing for one thing or another. Had Reitman given them more dimension, their parallel lives could have been effective and meaningful.
Choosing to use 22 non-actors recently let go of their jobs for the segments where Bingham and Natalie execute their terminations, Reitman infuses the film with a vérité quality, utilizing candid, impromptu, oftentimes, deeply sad segments to communicate the realities of what has affected national record-breaking populations. It is infuriating to witness Reitman cutting many of these people as they are mid-sentence, without grace, using their words only when they serve the pacing of his film. Had Reitman afforded these anonymous souls the time to speak, to look us in the face, the film could have actually been profound. Reitman essentially packages their sorrows in an unsettling way, making their suffering and desperation digestible for audiences.
This is a film driven by the powerhouse that is George Clooney. Asserting that the film would not have been funded had it not been for Clooney's involvement, Reitman has created a movie in his service–actually about a man very similar to the actor, a bachelor who travels a lot, used to play basketball, and is perhaps experiencing a mid-life crisis. Beyond this, the film lacks the depth and sincerity it should have for a subject matter so relevant to today's climate. When the film is over and the credits roll, Reitman includes a song composed by an unemployed, 50 year old, who handed him a tape about the condition and depression of living without work. After being asked about this, Reitman cracked a condescending joke to the audience about how when this man found out his music would be included in the film, he thought he could start a music career.