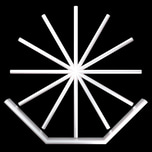 David Lynch: The Fashion Director?
The famed creator of Blue Velvet (1986) and Mulholland Drive (2001) has directed the third short in the "Lady Dior" series of film noir mini-features that launched on the internet, along with Lady Noire, directed by Olivier Dahan (La Vie en Rose, 2007) and Lady Rouge, directed by music video and film director Jonas Akerlund.
Blurring the lines between reality and fantasy is idiosyncratic of one of Hollywood's most unorthodox film makers; a quality that seemingly knows no limits, as it has even been clearly displayed in the commercial realm of fashion with this 12 minute feature. The Lynchian motifs of blinding, flashing lights, time lapses and a haunting soundtrack dominate while Oscar-winning actress, Marion Cotillard, is both enamored and mortified by her surroundings in the futuristic yet ancient city of Shanghai. The absence of the brand's logo in exchange for a gritty, lo-fi quality is truly a rare feature in the opulent, unattainable fashion world, but does this enhance Dior's artistic credibility? Has Lynch successfully disguised the advertisement as an art form?
To see the full Lady Blue Shanghai film, visit http://www.ladydior.com/