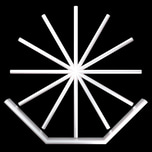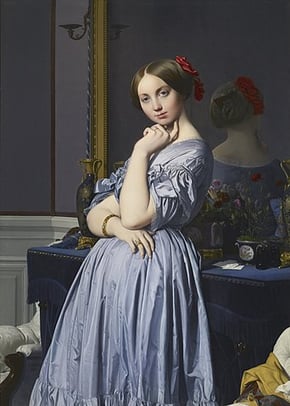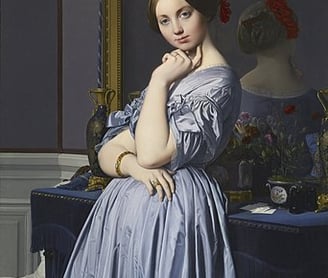 This past Saturday I went to see the Curator Emeritus of the Frick Collection in New York, Edgar Munhall, speak at the Norton Simon in honor of the museum's recent loan of Ingres' Comtesse d'Haussonville. Despite this painting's fame at the Frick, shamefully I have never heard of this sly looking portrait.
I heard the lecture before I actually saw the painting, which felt a bit strange. Edgar Munhall talked about all the smallest details one could imagine. Positioned in her boudoir, the painting depicts a strong female intellectual, Louise, the Princess de Broglie. By this time she was married with four children, but in her diary she describes her unhappiness with her marriage, stating frankly that she married simply to be of high class. She wrote five books, all of which were published anonymously (à-la George Sand).
Ingres was particularly known for being a womanizer, lounging about his house with hundreds of female nude models while in the process of completing his paintings. So one must wonder while looking at the gaze of Louise: what exactly is her gaze telling us? Was she having an affair with Ingres?
Of course, the answer doesn't really matter, and the question perhaps demeans Louise's strong position as a female intellectual of her time. What matters is the peculiar manner Ingres has articulated Louise. Like many of his other portraits, the painting seems so rooted in the accuracy of details, yet simultaneously distorts form. For instance, we can see the bent corners of cards placed on the fireplace to the right of Louise, alerting us that visitors had come to see her that day. She must have just walked through the door, put down her cashmere scarf lying on her fauteil confortable, set down her cards, and looked up pensively. And yet despite these meticulous factual details, her arms look hefty, like that of another larger model, and it also looks as though her left arm is coming out of her chest. Her reflection in the mirror, with her hand up to her chin, is also inaccurate; we would more realistically not be able to see her hand from that angle. Up close, her gaze is pure and innocent. But from a distance, she appears as if she has just played a trick on the viewer or is scheming something deliciously horrible. Even though this is a portrait, there is an element of fantasy here that is enticing.
It is uncertain whether or not the painting was praised or received in disdain. The father of Louise loved it, but critics of the time had complained that Louise is shown as if she is languid, losing color in her face. This is true, but I think this aspect contributes to the alluring mystery that has given the portrait its fame.
Hanging across the Comtesse was a static looking Goya portrait of a woman sitting with her dog. The woman's face on this portrait, also a princess, is one of the most serious I have ever seen that I just had to laugh. It was like the Goya princess was mad at all the attention the Comtesse now has. And while the Comtesse has a luscious quality to her, filled with S-shaped curvatures and details that glisten (the drapery is particularly absorbing), Goya's portrait seems to almost be making fun of his sitter, as if to be a more blatant commentary on her unhappiness. Goya, of course, was not one to stray from satirical commentaries.