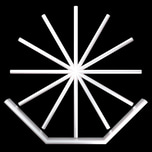 Cinema Study: Broken Embraces
Los Abrazos Rotos (Broken Embraces) is Pedro Almodovar's costliest and longest film to date, and perhaps his most subtle and multilayered. With four love stories intertwining a fiercely talented cast consisting of Penelope Cruz, Lluis Homar, Jose Luis Gomez, and Blanca Portillo, tensions unique to Almodovar's cinematic taste and intricate imagination rise, which inevitably explore the complexities of human nature: obsession, attraction, jealousy, loyalty, dominance, and deceit.
Taking place in the 1990's and present day, Mateo Blanco (Homar), a director and screenwriter, changes his name to Harry Caine after losing his sight and the love of his life, Lena (Cruz), in a car crash. The doomed lovers meet for the casting of Blanco's film, "Girls and Suitcases," which is produced by Ernesto Martel, the extremely wealthy, older, ex-boss who Lena has a two-year relationship with. However, Lena is more like a pet than a respected partner, as Martel grows increasingly possessive and insecure as his lover's photogenetic beauty hypnotizes Blanco. In order to damage this newfound attraction between Lena and Mateo, Martel deliberately sabotages "Girls and Suitcases," which not only serves as one of the movie's many twists, but also as a critical issue relative to every artist's life: the terror and inability of completing a piece of art.
Although multiple allegiances are broken between the characters, Almodovar's allegiance to the art of cinema is visible and constant throughout. With an incredibly fluid mixture of moods ranging from melodrama to cynical hilarity, this film-within-a-film pays homage to noir classics such as Henry Hathaway's Kiss of Death (1947) and Louis Malle's Ascenseur pour l'échafaud (Elevator to the Gallows, 1958), and other controversial artists like René Magritte.
Even though Broken Embraces does not exactly have the gut-wrenching depth of Almodovar's Hable con Ella (Talk to Her, 2002), the audience's senses will be continually challenged with stunning close-ups, breathtakingly saturated colors, and detailed backdrops laden with cultural ingenuity and aesthetic splendor. Almodovar's go-to film composer, Alberto Iglesias, justifies the dizzying visual magnificence of the film through his more poignant orchestrations, which are balanced by the contemporary mix of musicians like Cat Power, Uffie, and Can.
Almodovar's latest is the kind of movie one sees twice, not only to absorb the abundance of sensory and narrative information, but also because it is the director's very own, elegantly translated diary. As the final version of "Girls and Suitcases" remains unknown to the viewer, the unanswered questions, implications, and fantasies intoxicate and shift one's entire thought process just as a broken embrace of a forbidden love sparks a chaotic world of fascination, desire, and vulnerability.