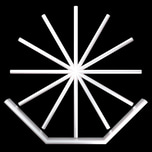 CfE Countdown: Maurice Kaehler
Our GRAPHITE Call for Entries Countdown continues with another spotlight on a contributor to our upcoming symposium, Open – Table: Maurice Kaehler.
Los Angeles is teeming with creative minds plowing ahead tirelessly toward actualizing its visions. However, having a vastly diverse population is not the sole factor to Los Angeles' continuing innovation. Innovation calls for a synergy among these people, these producers – these Angelenos – whose ideas would otherwise just float around in disconnection. Therefore, connection via social networking (and subsequent collaboration) are imperative; an operation which, on a fundamental level, depends on our ability to open up to others and build meaningful connections.

Entre: Maurice Kaehler, the yoga guru and founder of SyntropyLA. Kaehler, having practiced yoga for many years, has developed expertise in helping others feel confident about themselves and feel linked to others; a foundational basis for forming the intimate connections that set the roots for meaningful growth."In a genuine, intimate connection with strangers and in an environment that supports this connection we become a little less fearful, less defensive and less protective. Our bodies can relax. For me, wonderful things can happen because of that."
Following his intelle-spiritual trajectory, he created SyntropyLA, a project that constructs networks among the thinkers of Los Angeles and brings together their ideas to facilitate cooperative and creative environment.
It is indeed his forte to create meaningful interactions, and he will show us how he does so at the ReStoreLA Open – Table on Sunday, November 10. Kaehler will engage strangers in what he calls the "Question Game," which is designed to help the participants relax in on-the-spot situations. The game is meant to render participant/contributors more willing to lower their guards, invite strangers in, and thus acknowledge the sense of oneness that is the mother of inspiration. So forge and discover your connections with others and work to witness the infinite possibilities that recognizing oneness endows (while learning some concrete fundamentals of networking).
"They will get recognized for who they are, not the social role they feel they have to play. Their personality comes out, the ensemble connects, or the network is created.
Maurice Kaehler will be conducting intimate seminar-like sessions of the "Question Game" at GRAPHITE's Open – Table Symposium on Sunday, November 10th at the ReSTORE LA Space (1056 Westwood Boulevard).