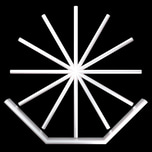 Brian Chippendale's Puke Force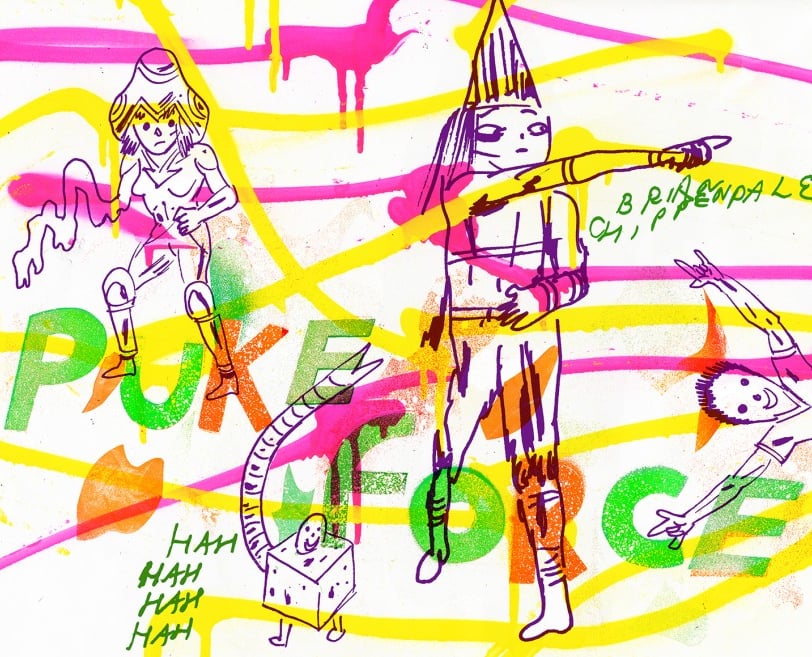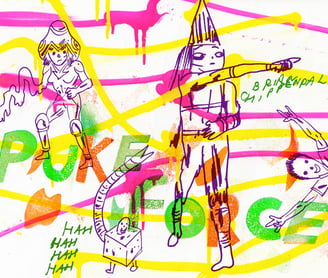 Cover of Puke Force. All images courtesy of Brian Chippendale and Drawn + Quarterly
As one snakes through the panels of visual artist and musician Brian Chippendale's brand new collection titled Puke Force, a fictional universe rapidly expands into thousands of energetic, scratchy marks. Chippendale, best known as drummer and vocalist of noise-rock duo Lightning Bolt, introduces us to hilariously ridiculous characters like the pantsless A.W. Dude, a literal giant M&M and a small long-armed video-game system named Gregus. These friends thread themselves through a dense world of pho-plants (cell phone brain-implants), Internet forum trolls who ooze out of computer screens and underground secret headquarters with ever-transforming hallways.
However, as surreal as Grave City may seem, many of the happenings we observe are undeniably relevant to 2016 (despite being drawn from 2009-2015), such as the empty promises of politicians, suicide bombings, obsessive government surveillance and much more. It may be difficult to take it all in at first glance, but upon closer examination, Puke Force certainly succeeds in satirizing our own overwhelmingly chaotic reality in Chippendale's characteristically humorous and raw style. GRAPHITE Editor Elena Yu recently email-interviewed Chippendale about early influences, best working conditions and what's next.
EY: How did you get into drawing comics? When and how did you first start thinking about and working on Puke Force?
BC: I drew comics as a kid. Making very simple superhero and ninja comics when I was like 11 or 12. Me and my friends would make sheets of characters, just a drawing and name. Lots of different guys. I used to make flip books when I was even younger. I can remember as far back as maybe third grade making drawings by copying stuff out of Dungeons and Dragons modules and the monster books. Monster Manual and Fiend Folio. I also started subscribing to two Marvel comics in the early 80s, GI Joe and Daredevil. They got delivered to my house. I started with issue 10 of GI Joe which was in 1983, a lifetime ago! Puke Force itself almost dates back that far in a way. The Ninja comics I drew as a kid became the basis for new Ninja comics I started drawing 18 years later in the early 2000s. And the characters in Puke Force originated in these later Ninja comics. So these new comics are just me evolving along a path that was set up a long time ago.
Can you describe the world of Puke Force? How does it fit in with our so-called "real" world? I noticed that some of your drawings are Lighting Bolt's website, do these characters belong to the same world as the "trenchcoats," giant M&M and pantsless dude of your book? What is most likely to actually go down in our world soon that happens in Puke Force?
Puke Force takes place in a city that blends a mixture of probably American, European and Japanese cities. These are the places I have been. So you might have the signage from Tokyo mixed with brick walls from Europe or old parts of the States mixed with weird Blade Runner or Mad Max-ian people wandering around. It's drawn in what i would say is my default style, my most comfortable style, so any character I draw anywhere for anything could probably show up in Puke Force. Really any character anyone draws anywhere can show up in my work. I'm into stealing people's characters for my own uses. I like collage; melding disparate concepts but filtering them into a comprehensive whole. I recently started penciling some upcoming episodes, stuff that incorporates more news of the day; refugees, the current Presidential Election cycle. SuperPacs.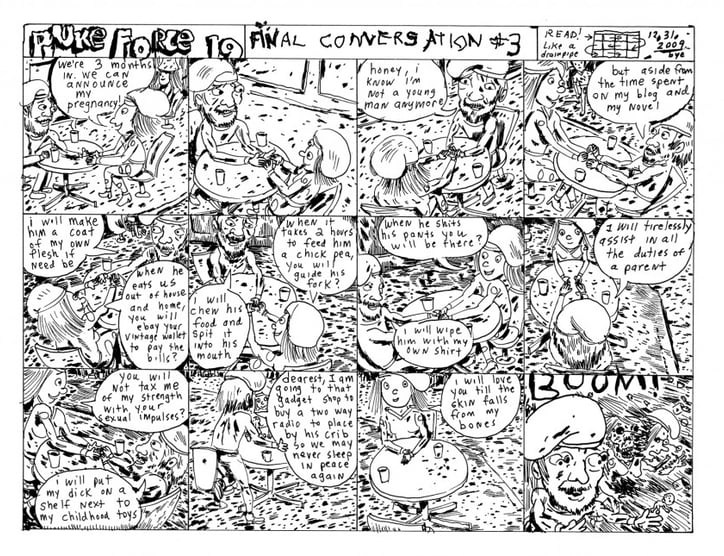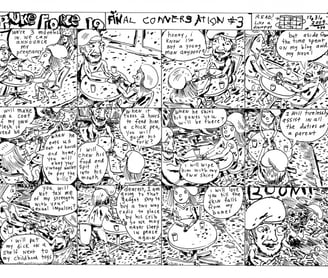 Describe your typical art-making practice; what kind of space(s) do you draw in? Do you listen to music while you draw? How does your art practice fit in with your career as a musician?
When I'm brainstorming I tend to listen to Talk Radio or music. Talk Radio will give you grounded reality themes and music will give you abstract mark-making ideas. Your pen can kind of dance when you listen to music. Or sometimes I choose silence, if I'm working out dialogue. Or just feeling silent. During any given day I can usually play some music and either work on art or draw comics. Two tasks a day and maybe some errands. I tend to seek out a sunbeam to draw in during the morning hours. Like a cat.
Who are some of your favorite graphic novelists? What are you reading right now?
The book I'm most excited about right now is Carlos Gonzalez's Test Tube. Carlos is the king of creepy weirdo. I have a tremendous stack of Michael DeForge I need to get busy with. I just toured with both him and Nick Drnaso (for his new book Beverly). Excited to jump into their work. The first story in Beverly is a slowed down emotionally saturated subtle "Workers On The Job" story — it's really powerful. Books that hit me hardest in the last couple years, hmm, I read The Drifting Life by Yoshihiro Tatsumi which is amazing, I finally got an iPad and finished Number Five by Taiyo Matsumoto which was bizarre but beautiful and energizing (it's only in English on an iPad app). I've got Final Incal at home to try and break into by Jodorowsky and Ladrönn. Been digging the various B.P.R.D. books at Dark Horse, and Gantz! Gantz is insane. I just read The Massive by Brian Wood, got a little weird at the end but a nice meditative float through a post apocalypse.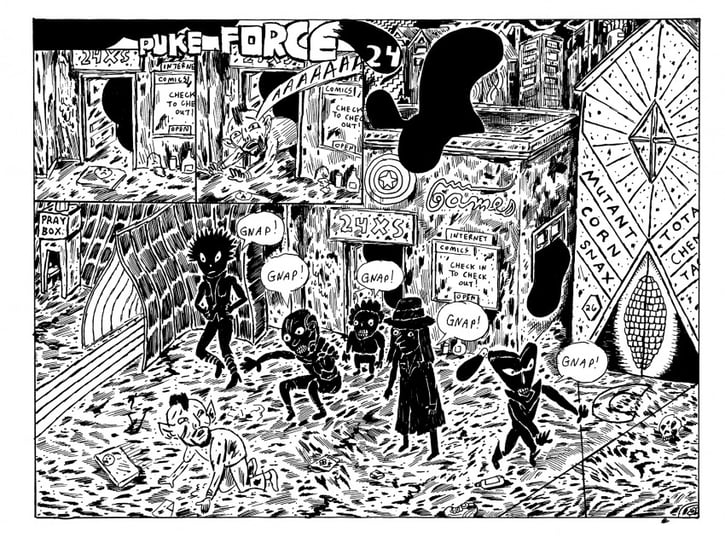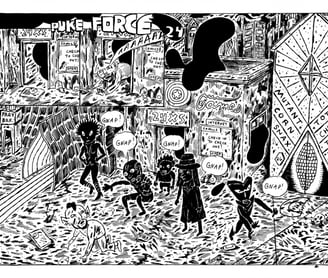 Earliest music memory?
Seeing John Denver live in Philadelphia as a young kid with my parents.
Embarrassing story from adolescence?
A kid lit my hair on fire in the hallway in high school. Wasn't a big fire. Probably wasn't even that embarrassing, they were lighting everyone's hair on fire.
If you were president of a high-school club (as a high-schooler), what would it be?
"Grunge Rock Comic club"
Guilty pleasure band?
Tove Lo
What's next for you in terms of art, music and/or your current day?
Just trying to step up my game. Keep one foot in the weirdo world, because I have no choice, I'm a weirdo, but also trying to absorb influence from anywhere and everywhere. Compete on a galactic level. I enjoy watching large movements as well as small ones in culture, there are good ideas hiding everywhere.
Brian Chippendale's Puke Force is out now via Drawn + Quarterly. (link not longer active)