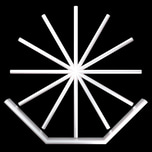 Anti/Establishment: Art in the Streets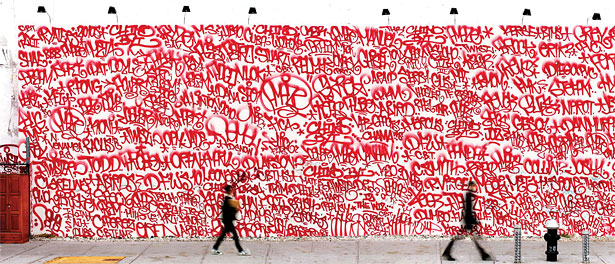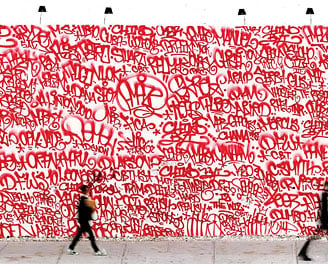 I'm not one for "street art," whatever that actually means, but I did make a trip out to LA MOCA a couple of weeks ago to visit the highly anticipated show, Art in the Streets. Quite honestly, I don't think I would've called it an exhibition myself, but it was definitely an attraction and a hit for sure. The Geffen Contemporary was jammed packed, and there was a crowd outside waiting in line to see the show (which brings me to question the act of waiting in line to see art that is supposed to be accessible to all). To be fair though, this exhibition is essentially historically relevant to Los Angeles's very own, and who knows, it might be "groundbreaking."
The show is split into two categories–historical and contemporary. On one side, Basquiat, Fashion Moda, Lee (Quinones) and other "fathers of street art" fill the walls with historical images and stories. Visitors are given a glimpse into the histories of street art since the '70s. The rest of the show focuses on what's being made now; a freeway sign is taken in and plopped in the museum space, Space Invader invades space on the corners of walls, and Kenny Scharf has several neon-drenched installations made with found objects (tribute to Duchamp?) and action figures. On an aesthetic level, the show is really attractive; if I had one word for it, it'd be "cool." But that's it. The problems underlying such an entertaining spectacle aren't to be ignored.
The title itself is a paradox. If the show is on street art, then why is it in a museum in the first place? Street art emerged with an anti-establishment attitude and prides itself in its DIY aesthetic. Using guerilla tactics to distance itself from the dominant culture, street art is a tribute to primitive self-representation and the underground. Yet, now, the irony is blatant: once an object is in a museum, it is confined to the conventions of the white cube, and ultimately becomes institutionalized. Having art from the streets framed in the confines of a museum ultimately strips the work of its original context, but does the meaning increase in value because it's in a museum? Is street art finally "recognized" as "high culture?" Or does it run the risk of it losing its integrity to the accessible but marginalized sphere of the art world?
Moreover, there are guards making sure visitors don't touch any of the work. Yes, I'm aware that we are in an institution, but this is just my point. Street art is praised for its accessibility, but having guards there to prohibit you from getting too close to a work, or to stop you from touching it, does a disservice to the art in this case. Also, the addition of a gift shop is a twist on Keith Haring's "Pop Shop" where art is turned into commodities. Enter discourse of art and commodity culture here. Street art, once underground and fleeing from the establishment, now becomes a product of the establishment. Talk about coming full circle. Who knew?