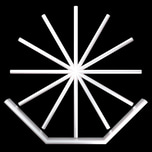 A Conversation with Tommy Coleman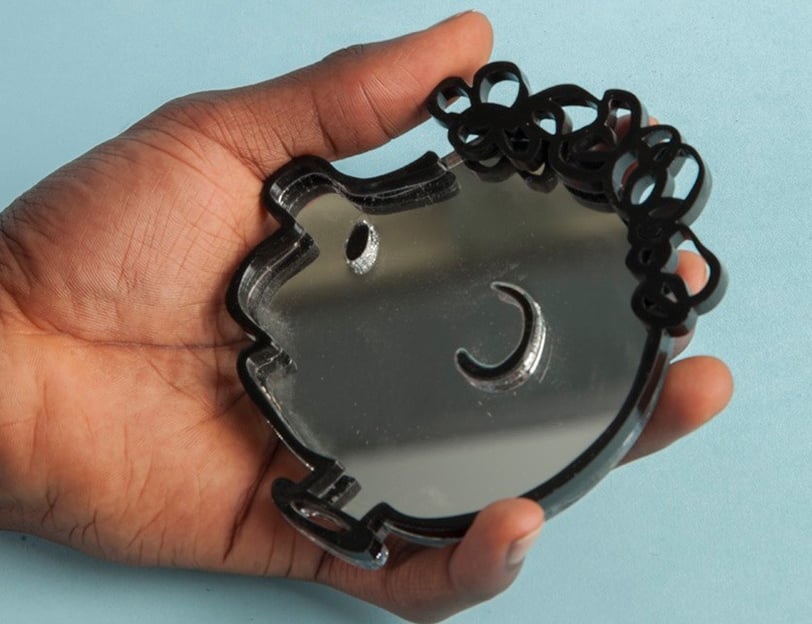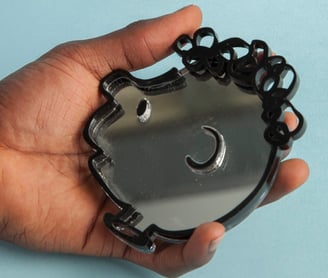 "Franklin Like Me" 2013 Laser Cut Acrylic 4" X 4"
Tommy Coleman, an artist featured in GRAPHITE VI, first made my acquaintance when I was I think 14, at the Oxbow School, in Napa, where he was a counselor and later a teacher. I remember him telling me about Doris Salcedo, trying to get me to dance to Beyoncé, teaching me intaglio etching, and doing a jumping high five from down the block. After graduating Cooper Union, Tommy worked at the college, and is now currently enrolled in the Yale MFA program. He is also starting a summer residency at Artpark in Lewiston, NY, on the edge of Niagara Falls. I had the privilege to have this email conversation with him.
Would you care to talk about any of the recurring themes in your work (Charlie Brown, gravestones, bananas) ?
The reoccurring themes (or icons) are fascinations of mine. For instance using Charlie Brown, or Peanuts-related tropes, are kind of the closest I can come to talking about myself; as a character, CB is someone who's close to my heart- the constantly failing, thoughtful child whose life isn't gauged by his success or his failure, but rather his experience- to me that kind of speaks to the life of being a creative individual.
I love thinking about a tombstone as the last object/sculpture we ever get to have. Death is terrifying, but I find a comfort in knowing that even after I'm gone there's this thing (outside of my art) that can be used to mark me and my existence. My tombstone drawings explore various ideas of what finality could be. I use the shape of a tombstone in many ways- as a window, as ghost, as a proscenium.
The bananas are more or less a direct reference to Samuel Beckett's Krapp's Last Tape, a favorite short play of mine. In the play, Krapp (the main character) is continuously pulling bananas out of drawers or pockets and eating them, throwing peels to the floor. I've been making bananas and using them as a building unit to create forms that suspend the viewers' expectation of what these forms do- create an abstraction out of an object that could be seen as banal or could be read as a reference to Warhol's famous Velvet Underground banana.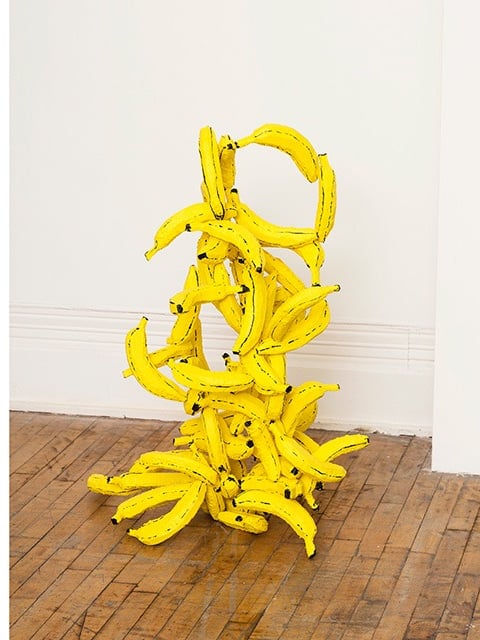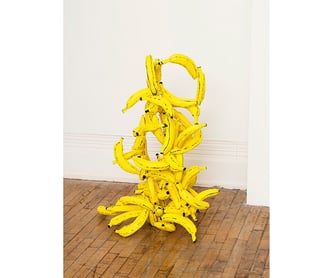 "New Language (One Million Bananas)" 2015
Foam, Paint, Resin, Wood Dimensions Vary
What draws you to your materials?
I'm not someone who can sit still for very long and usually need to be doing 100 things at once. For me a lot of my work often comes back to drawing. My sculptures tend to look like drawings and can't be limited to one material, also I've had the unique privilege of having many outlets for utilizing different materials and techniques. I think my materials follow my ideas.
What is the black drapey figure sculpture about?
The black drapey figure sculpture is titled Exhausted Shadow Body. It's made from latex paint that I casted into the form of an elongated figure. The sculpture functions as a kind of marker of where a body was, but no longer has the ability to be, it collapses in exhaustion. It also has several black latex band-aids on it holding it together in places. It was a tongue-in-cheek way of fixing certain imperfections of the material, but as time went on I began to admire how they did more for the figure.
A lot of your more public works have a temporary feel. Are they more for you or is it important for others to see them?
Those bodies of work in many ways are for me; but they're meant for others- they have to be shared. It's one of those things that made me aware of the power of social media, a lot of those pieces are 'sculptures,' but they can only exist as a photograph after the fact. Their ephemeralness is a kind of exchange, maybe you get to see them, maybe you don't, but they can be shared on a blog or seen through my instagram. I love the magic of being able to see some of these works in public, but I know that their lifespan is limited in the same way any conversation is.
What art are you looking at/ what are you listening to?
I feel like the art I love to see looks nothing like the work I produce, but the music I listen to definitely inspires the work I make. Artists whose work I love, adore, and feel inspired by Felix Gonzalez-Torres, Martin Kersels, Doug Ashford, Michael Queenland, Paul McCarthy, Abigail DeVille, Sharon Hayes. As for music I'm really all over the place right now; Nina Simone, Hop Along, Dogs on Acid, Brian Lugo, Desaparecidos, Lindsey Mills, Algernon Cadwallader, Devin Kenny, Ceremony, Circle Takes The Square & the most recent Earl Sweatshirt album feels good. I could go on and on.
It seems like recently you've been working with a lot of school references. what does this mean to you?
Some pieces, like the mass amount of gum that takes down the table, are more or less references to education (in some ways inspired by the Free education movement going on at Cooper Union [my alma mater]). For that piece in particular I thought a lot about this abundance taking down the structure it's defiling. The desk looks like it's a dying animal half covered in gum.
The pencil series and collection of Iined-paper were a kind of Marxist school or office collection of series. The labor of making the objects as a piece of art was the initial focus of the project, but as time went on it became about them being my objects, my tools, my devices that slipped their way into reality. Each line of the lined-paper was letter pressed so each of the lines reads "COLLEGERULED." The pencils are all hand made- for me they explored this exchange of allowing someone to use the pencils I made; if someone writes with one of my pencils- do I then own the words they write? Later I made diamond-tipped pencils and tattoo machine out of a mechanical pencil. All of these pieces were a part of the Museum of Art and Design Biennial last summer.
What is the Spice Girls bathroom graffiti about?
The Spice Girls reference specifically is in reference to a book of essays by Jan Verwoert that borrows the title from the Spice Girl's song. Taking the ling "Tell me what you want, what you really, really want," and using it to discuss the object of someone's desire is charming, but also a really real feeling- I began writing it in public bathrooms ages ago and it kind of became a poetic fascination of mine. That being said, who doesn't love the Spice Girls?
What is your relationship with performance?
Performance is an ongoing interest. I did dance starting a very early age, and then as an early teen fell into the punk and metal scene in South Florida- from there performance has become this engaging way of looking at how I make things- my process for making works is really important to me and I often consider it a performative action- I've only really just begun to engage in creating performance art, but I also love writing short plays.
What are you currently working on at Artpark?
While I'm out there I'll be creating a 30-ft-tall radio tower that will broadcast these audio collages I've been creating- it's been a lot of planning, the piece itself utilizes the history of the park as an epicenter for artists (People like Chris Burden, Vito Acconci, & Martin Puryear) creating works of public art. I can't talk too much about the actual content, but I'm very excited- the piece should be installed and on view starting June 20th.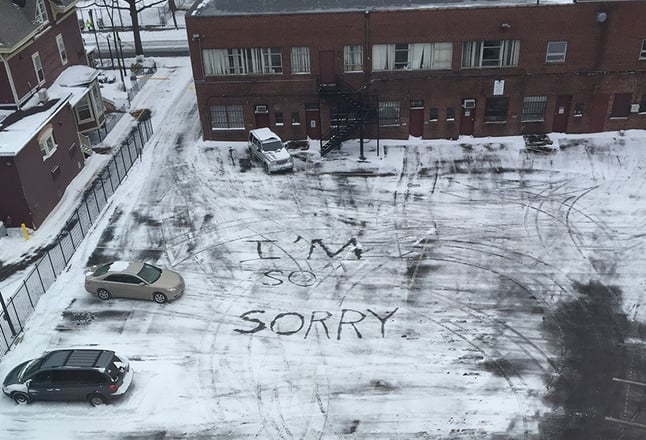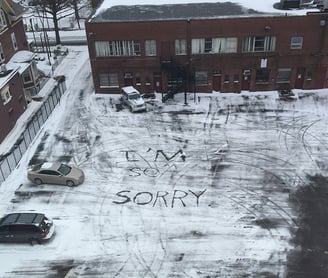 "Ephemeral apology in the snowy parking lot with a gallon of hot water:1/27/15 2:50 pm."
2015 Snow, Hot Water, Instagram 20' X 20'
Originally coming from South Florida (later living in Brooklyn); Tommy is a sculptor currently based in New Haven, CT. creating work that reflects upon the way a person navigates anxiety in culture throughout the everyday. He is currently attending Yale MFA in Sculpture (2016).
Tommy Coleman's work appears in our upcoming GRAPHITE ISSUE SIX: PRACTICE. The new issue comes out June 5th. @hardwerk